One of the early spring rituals in our yard involves mounting expeditions to the north side of the house, with its moist soil and partial shade, and scanning the ground near the heat-pump.  In Nadia's imaginative parlance, we are looking for "soldiers", but most folks might just say we're looking for the extended, but unopened flowers of a true spring beauty, the gorgeous Bloodroot.
Sanguinaria canadensis is ethereally beautiful, but doles out its loveliness only briefly.  That's why we look for it early and keep checking until we find it—-the flowers come and go in a rush in just two to five days.  Snooze and lose—- another year to wait.  After the single slim-necked flower shows its "helmeted" head, protruding above the cloak or shield provided by the plant's solitary embracing basal leaf, it will not be long before it opens up into a many-petaled white blossom with yellow stamens, a couple inches in diameter.
The leaf spreads out into an attractive deeply-lobed structure which continues growing after the flower has gone and can become many inches in diameter before the plant goes dormant in mid- to late-summer.
Best planted from seed, it prefers partial to full shade and moist, well-drained soils, hence its love of the north side of our house.  After establishment, it will propagate itself by rhizomes and seed and can eventually form large dense patches.  It finally seems to have taken off in our yard, since Nadia counted twenty-some blossoms this year—a substantial increase from previous years.
You can also split the rhizomes in early spring or fall and help things along a bit.  (If you do your own propagating, please do it from your own plants, not from wild specimens, since for various reasons Bloodroot has challenges out there in the big, harsh world.  Let us not make things worse than they are.)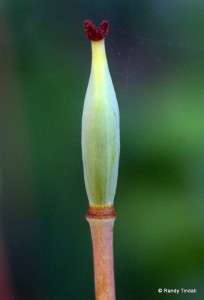 In the wild (as well as in our yard, I suppose), Bloodroot seed is spread by ants, in a process known as myrmecochory.  The seeds have attached structures called elaiosomes (the sound of which, for some reason, brings back memories of my Catholic upbringing—some of you will understand) which are edible to ants.  Here is a great photo of these seeds—unfortunately, not mine.  The ants take the seeds back to their nests, eat the yummy part and toss the remainder away, where it hopefully germinates in an ideal location at a distance from the parent plant.  How clever is that?
Bloodroot gets its mystical-sounding name from its sap, which looks like, well, guess.  Naturally, this means it gets used as a dye and has been used by Native Americans as body paint, but with care.  Like many beautiful things, Bloodroot can bite.  It is toxic and has been known to cause visual distortions, such as tunnel vision, in people licking the sap from the roots.  (I have seen no explanation yet for why people become Bloodroot-lickers. Maybe they just like tunnel vision?  Maybe they are just affectionate with their plants?) It is also an escharotic, and the sap is quite caustic, kills tissue and forms scabs (eschars).  This means that if you are doing propagation by splitting the plant, you should wear gloves and/or wash your hands afterwards.  It also means, of course, that some have tried to use this property to make medicine, money and mischief.
One of Bloodroot's more notorious "uses" is as a cancer treatment, a cure firmly condemned by the FDA. (NOTE: This link has disturbing images.  Be warned!)
That doesn't mean, however, that Bloodroot doesn't have legitimate pharmaceutical uses.  I am not qualified to judge its efficacy as a love charm or marriage protector, but it is used, with FDA approval, in toothpastes and mouthwashes to help reduce dental plaque and gingivitis, which might conceivably contribute to romance.  This is one of the reasons that Bloodroot often struggles in the wild. As recently as the 1990's there was a market for this herb of up to 200 TONS per year, making it a target of wild herb gatherers or "wildcrafters".  Consumption appears to be on the increase again, since it is now becoming more popular as a livestock feed additive (good propagation info here, as well), as a substitute for artificial antibiotics.
Now back in the day, I knew some of these wildcrafters and gatherers in the wilds of Southern Illinois, and I seem to recall that one of them told me that it took about 200 dried Bloodroot tubers to make a pound of salable product.  Do the math from there to 200 tons and it's easy to see why Bloodroot in places has gone the way of wild ginseng.  Still there, but rare.
Combined with the chance that invasive ant species, such as fire ants, may be driving out species of ants which naturally disperse Bloodroot seeds, and it's clear that there is cause for deep concern in some parts of the country.  So by having this stunning plant in your very own native plant garden, you are helping to maintain and propagate one of our most attractive and lore-laden native species.  By collecting and dispersing seeds from your patch back into the wild, you might even help return it to its glory days.
Just try to avoid licking the roots while doing it.